Last night I attended an event at my town's public library. It was a reception to introduce the community to the book givers for the Canton Book Project, which is the Canton Public Library's version of the now dissolved World Book Night. I was excited to be one of the people selected as a book giver for a program that seeks to reach out to residents who might not have been infected with reading bug yet. For me, I wanted to find a book that would appeal to middle school students who have yet to discover a love of reading -- or maybe they used to love reading but don't anymore.

As a middle school English teacher, I see so often what school does to kills students' love of reading. In our quest to "cover" all the material in our planned curriculum, we have left our students' love of reading and love of learning in our wake. So I have made it my mission to try to bring that love of reading back into my students' lives.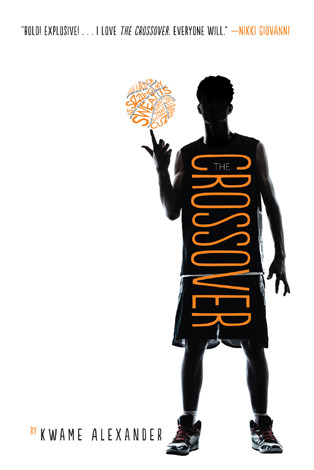 The book I chose to give out as a book giver in the Canton Book Project was
The Crossover
by Kwame Alexander.
The Crossover is one of those few books that has universal appeal. The gateway is basketball but at its heart it's a story about family and growing up. You don't have to love basketball to love The Crossover. Kids love it. Adults love it. It appeals to lovers of language with its bouncing, rhythmical verse. It appeals to reluctant readers with its minimal text on each page and accessible use of poetic language. And yes, it appeals to sports lovers too.
With the book givers and also, I'm a READ poster!
I have made it my mission as a middle school teacher to show students who think reading isn't for them, that it is for everyone. And so while I am grateful to be giving out copies of a book I think many kids will love, I'm also cautious. As universal as I think this book is, as a teacher, I also need to respect that there is no one book that appeals to all people. I want this book to
be a conversation starter rather than shutting it down before the discussion even begins. I don't want this to be yet another way for adults to force their "because it's good for you, that's why" agenda on kids' reading lives.
So if you're a teacher and you care about your students' reading lives, I encourage you to discover what they like to read and talk with them about it rather than just force feeding them books that YOU like. If they don't know what they like, keep encouraging and nudging. Lots of reading lives are built on a teacher saying, "I read this book and I thought of you..."
Also if you're a teacher and you want to build a classroom library but don't have the means, I encourage you to apply for a grant from the Book Love Foundation, which gives out ten classroom libraries per year. Applications are due May 1st. Even if you're not a teacher and you're reading this as a concerned parent, feel free to share the Book Love Foundation website with your child's teacher or even make a donation to the foundation. Spreading Book Love takes a village.